UK Universities are some of the best in the world, attracting thousands of students every year. Studying abroad is one of the most exciting things that can happen to a young person. You're at one of the top Unis in the world, often on your own for the first time, studying something you've been dreaming of for years. Not much can sour the experience, but there's a common fly in the ointment – the lead time for opening up a UK bank account. Due to the amount of information banks request, and the time it takes to procure this, students find themselves in the position of using cards with overseas fees, or carrying large sums of cash at all times. <br> <br> Banks in other countries have seen the value of making the experience easier for international students. German banks have introduced a "blocked account," a deposit account where international students can deposit their living expenses for the full year, and withdraw money as needed. Beyond giving easy access to their money, the blocked account can also function as proof of funds for immigration. In order to get a student visa, international students are required to show proof of £12,006 deposited in a German bank account for a minimum of 28 days prior to arrival. <br> <br> The blocked account can easily be created from the student's home country, and once they arrive to Germany, the account is activated. It allows the student to withdraw a set amount of money per month, blocking the rest of the funds and ensuring the student doesn't overspend – hence the term "blocked". <br> <br> International students coming to the UK face a much higher bar of entry. In order to open a bank account, they need to show a valid ID and proof of address, but they may also be required to show proof of address in their home country as well as proof of studying or employment in the UK. As the required documents vary wildly in different countries, and even in the UK sometimes from bank to bank, this can pose an issue. <br> <br> Even with the rise in fintech, international students remain a somewhat underserved demographic. In the 2020-21 academic year, the international student population in the UK reached 605,130 students, with approximately 75% being non-EU students. This is a rising trend, as illustrated by the graph below. These 600,000 people contribute significantly to the UK economy, with a total of £10.8 billion being generated by international students in the 2014-15 academic year.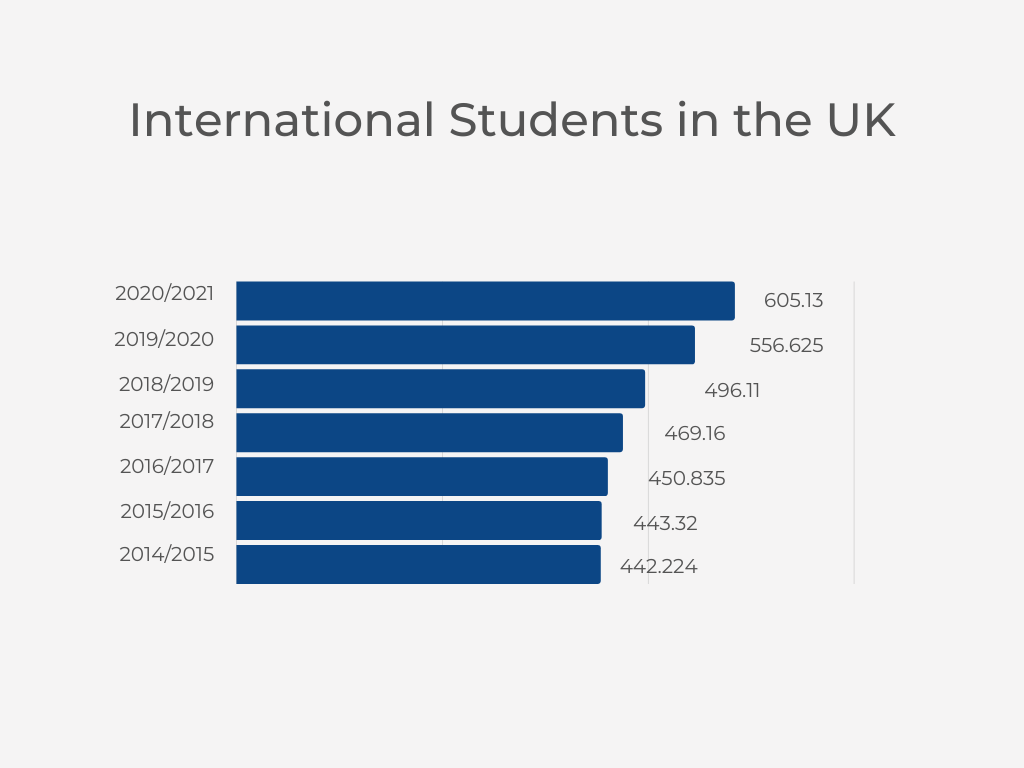 <br> <br> The issues international students face have been exacerbated by Covid, as the move to cashless payments has been accelerated and many stores no longer accept cash. The future of payments is digital, and anyone left carrying cash risks being in a worse position. Some predictions put us in a cashless society as early as 2026. As a result, students coming to the UK with no cards risk being hindered in their day-to-day activities. <br> <br> In order to ensure motivated, ambitious individuals continue to see studying in the UK as the most attractive opportunity, banks need to work on a solution that ensures that the process is as smooth as possible. Fintech companies can provide a solution which plugs the gap, with international payment services like the one Caxton provides ensuring that students are able to make payments quickly with minimal fees. But will this work long term? Consumers expect instant solutions, and the implication of difficulties for international students may be that UK universities no longer look like an attractive option. With their significant contribution to the economy, that's a risk we can't afford. <br> <br>
About the Author <br> <a href="https://www.linkedin.com/in/sara-khill-86183b200/" target="_blank">Sara Khil</a> is a Business Analyst at Caxton.